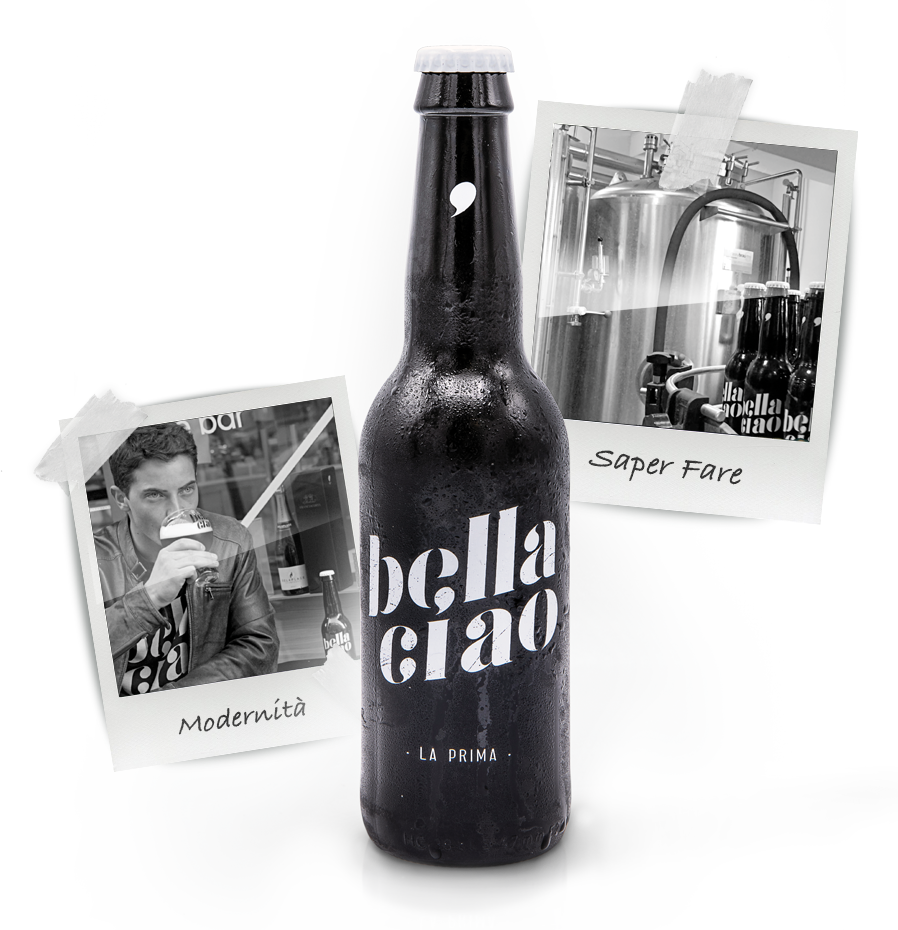 You won't be able to resist it!
Sparkling like the sun, soft and refreshing like a summer breeze. This artisanal beer with a Mediterranean flavor and a hint of rosemary is unfiltered.
Bella Ciao is born from the brewing of culture and the Italian-Belgian know-how.
Ingredients: water, barley malt, wheat, hops, yeast

Un nom sur toutes les lèvres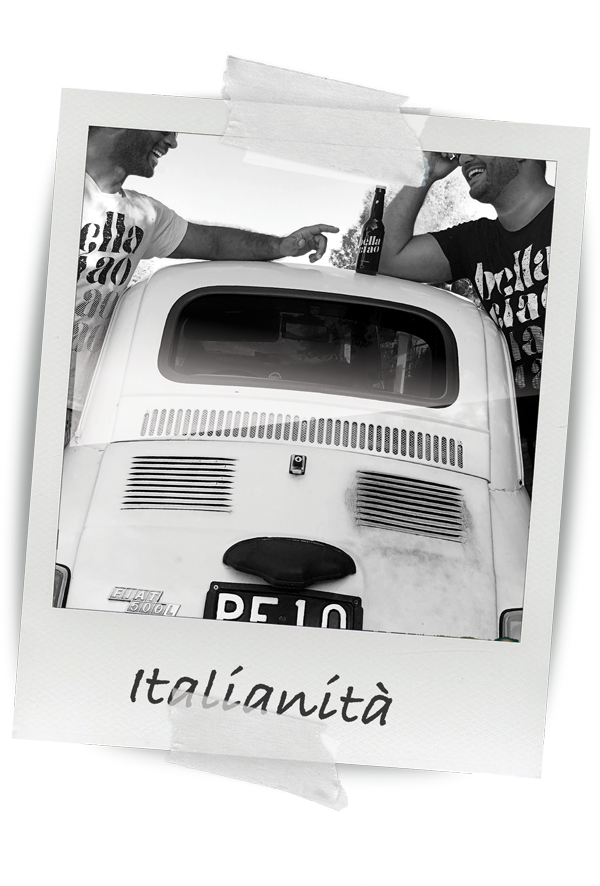 Where does it come from
❝ Bella Ciao ❞ ?
From memory to memory, from mouth to mouth, Bella Ciao is a popular song. It is a story of another century, notably of an invaded and weakened Italy, but whose courageous people were looking for better days… In Italy, or elsewhere.
This song, which throughout history symbolizes the Resistance, is now on everyone's lips…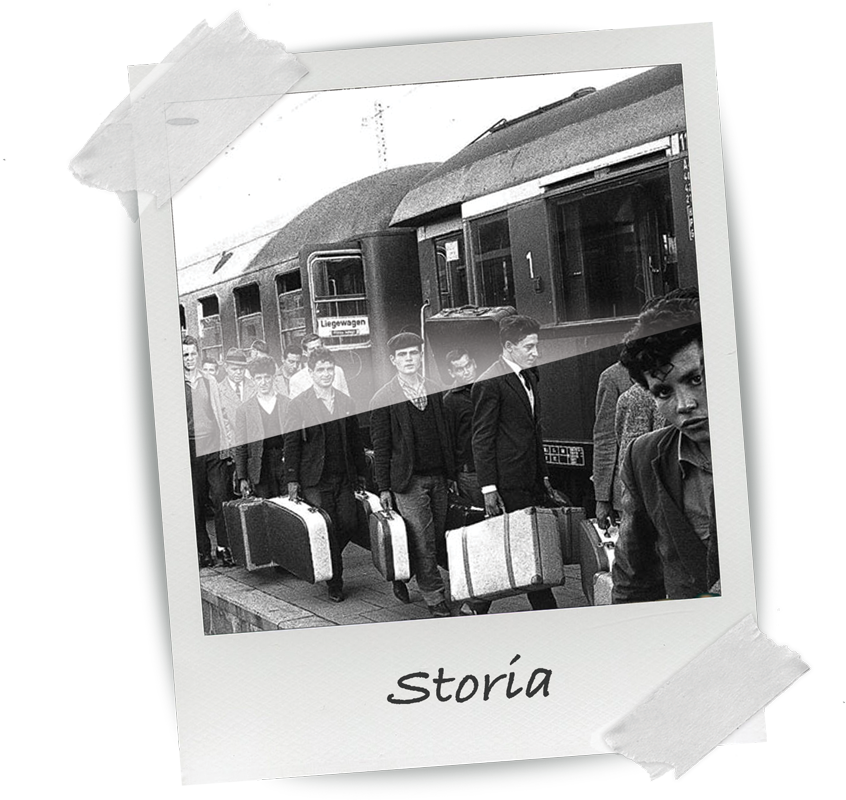 History of a mixture of cultures
It has its origins in the Fascist period which, during and after the war, destroyed almost all hope for the Italians. Some of them, in search of a "better" life, went into exile to Belgium. With their courageous work, their sacrifices, their values, they created what we are today, generation after generation.
Bella Ciao is therefore also a way to explain this history and a tribute to those who are at the roots.
Translated with www.DeepL.com/Translator (free version)
❝ Bella Ciao ❞
Much more than a beer, the story of a very long journey!
Where to taste our beer?
AD DELHAIZE HARELBEKE (43885)

53 RUE OSSEGHEMSTRAAT
1080 MOLENBEEK-SAINT-JEAN

AL PICCOLO MONDO

24 RUE GRÉTRY
4020 LIÈGE

AMUNI

9 BURG
8000 BRUGGE

AP GUSTO

8 PLACE ALBERT IER
4960 MALMEDY

AROMES ET DELICES

4 RUE DE LA RIVIETTE
7333 TERTRE

AU SOLEIL D'ITALIE

6 PLACE SABATIER
6031 MONCEAU-SUR-SAMBRE

BACIO DIVINO

107 RUE SAINT ANDRE
59800 LILLE

BAR A PIZZA

35 RUE DE LA LIMITE
1300 WAVRE

BELLA CIAO

51B RIJKSWEG
3650 DILSEN

CA DA GIUSEPPE ET MARIA

11 RUE DU CURE CHABOTTEAU
7080 FRAMERIES

CASETTA ROSSA

25 RUE DU BORSAY
4170 COMBLAIN-AU-PONT

CHEZ JU

5 ROUTE DE RAMILLIES
5310 EGHEZEE

CIRRESTO

7 RUE DE MONS
1480 TUBIZE

DIVERSO

33 STEENWEG OP TURNHOUT
2360 OUD-TURNHOUT

EAT IT

30 RUE DE CHAMPLES
1301 WAVRE

ELECTRO NEVEN NV

2 ORDINGEN-DORP
3800 SINT-TRUIDEN

ENZO CRISTINO

133 RUE DE FEXHE SLINS
4680 HERMEE

GILLI GIANNI

20 RUE DES LOGES
6150 ANDERLUES

IDEAL MAGASIN

4 CHEMIN DE FONTAINE
6150 ANDERLUES

IL DOGE

22 AGORA
1348 LOUVAIN-LA-NEUVE

IL GUSTO TRATTORIA

121 RUE DU CHEMIN VERT
59300 AULNOY LEZ VALENCIENNES

IL PARTIGIANO

221 STAATSBAAN
9870 ZULTE

 

INGOGLIA SALVATORE

6 WEERSTANDSPLEIN
1600 SINT-PIETERS-LEEUW

INTERMARCHE ANDERLUES I

16 RUE E. VANDERVELDE
6150 ANDERLUES

INTERMARCHE ANDERLUES II

225 CHAUSSEE DE MONS
6150 ANDERLUES

INTERMARCHE BOUSSU

19 RUE DES CHAUFOURS
7300 BOUSSU

INTERMARCHE FORCHIES

229 RUE CHAUSSEE
6141 FORCHIES-LA-MARCHE

INTERMARCHE FRAMERIES

29 ROUTE NATIONALE
7080 FRAMERIES

INTERMARCHE TUBIZE

1 RUE PIERRET
1480 TUBIZE

L' ARCH EN GREZ RESTAURANT

50 RUE ADELIN COLON
1300 WAVRE

L' ARCOBALENO PIZZERIA

8 DES GRANDS CHAMPS
4420 SAINT-NICOLAS 

L' AUTENTICO

2 RUE BOURBON
08000 CHARLEVILLE MEZIERES

L' INTERMEZZO

9 RUE DES ROSES
5570 BEAURAING

LA CANTINETTA

24 RUE DE LA PAIX
1050 IXELLES

LA SPIZZA

11A VOIE DE BÜTGENBACH
FAYMONVILLE 4950

LA STORIA

6 RUE DES ECOLES
1490 COURT-SAINT-ETIENNE

LA VITA E BELLA

32 PLACE DES GRANDS PRES
7000 MONS

LE RAFFINATO

7 RUE CARNOT
08200  SEDAN

LITTLE ITALY

29 OSWALD PONETTESTRAAT
9600 RONSE - RENAIX

MARCHE 2.0

4 RUE SÉBASTIEN-LARUELLE
4000 LIÈGE

MATCH CHATELET

8-9 PLACE DU PERRON
6200 CHATELET

MDH – SPRL VAL D'OR

213 RUE AU BOIS
1150 WOLUWE-SAINT-PIERRE

MIGUEL BENOIT

1 KAPITTELSTRAAT
8500 KORTRIJK

MURENA SEBASTIEN

4 CHAUSSEE DE JOLIMONT
7100 HAINE ST PAUL

NAIA

35 RUE DE L ESCADRON
1040 BRUXELLES

NERO MILANO

6 WEERSTANDSPLEIN
1600 SINT-PIETERS-LEEUW

O'BELLA CIAO PIZZERIA

200 MECHELSESTEENWEG
1933 ZAVENTEM

ODLS

166, RUE ARCHES ROYALES
5300 ANDENNE

ONDA CALABRA

159 CHAUSSEE DE DINANT
5537 ANHEE

ONLY FOOD

53-55 PLACE JOURDAN
1040 ETTERBEEK

PANE E VINO

3 GRAND PLACE
4500 HUY

PICCOLA ITALIA TRATTORIA

7 SINT-MICHIELSPLEIN
8800 ROESELARE

PIZZA CHIARA

276 ROUTE DE MONS
6140 FONTAINE-L'EVEQUE

PIZZA FACTORY 100% ITALIANO

11 VLAANDERENSTRAAT
9000 GENT

PIZZA FRESCA

292 RUE AU BOIS
1150 WOLUWE-SAINT-PIERRE

PIZZERIA DE LA STATION

5 PLACE DE LA STATION
7784 WARNETON

RISOTTO

RUE DE LOUVROIL
59330  HAUTMONT

SAPORI ZIA

255 CHAUSSEE DE THUIN
6150 ANDERLUES

SCIARROTTA LOUCAS

8 RUE DE TRAZEGNIES
6180 Courcelles

SITA BRUNO

17 RUE DES FLAMANDS
7170 BELLECOURT

SPAR QUAREGNON

148 CHEMIN DU BON DIEU
7390 QUAREGNON

SUPERMERCATO MANAGE

25 Rue de la Croyère
7170 FAYT- LEZ - MANAGE

SUPERMERCATO MARCINELLE

102 Rue des Forgerons
6001 Marcinelle 

TAORMINA PIZZERIA

59A ROUGE BOUTON
1460 VIRGINAL-SAMME

TERRANOSTRA

141A GRAND ROUTE
4537 VERLAINE

TOURNESOL CHAPELLE

5 CLOS DU CHENE AU BOIS
7160 CHAPELLE-LEZ-HERLAIMONT

TOURNESOLS

315 CHAUSSEE DE CHATELINEAU
6061 MONTIGNIES-SUR-SAMBRE

TOURNESOLS CHATELINEAU

315 CHAUSSEE DE CHATELINEAU
6061 CHATELINEAU

TRATTORIA CHEZ GINO

9 RUE DU SUD
59140 DUNKERQUE

V.I.P.

107 RUE SADI CARNOT
59350 SAINT ANDRE LEZ LILLE

VITA E BELLA

22B BOULEVARD WALTER DE MARVI
7500 TOURNAI